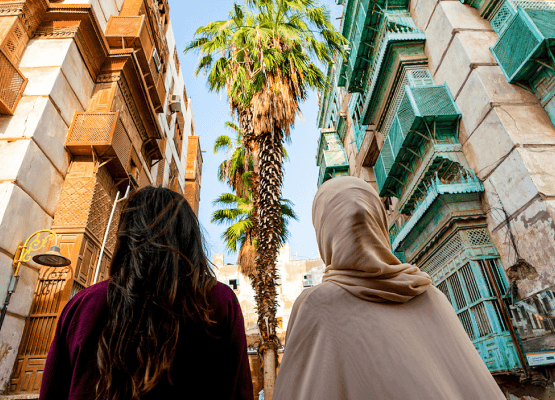 The jewel on the Red Sea
Over the years, no Saudi city has been more open to outside influencers such as traders, international artists and Makkah-bound pilgrims than the ancient port of Jeddah. Indeed, the city's unofficial motto is "Jeddah ghair," or "Jeddah's different." Today, Jeddah is Saudi Arabia's buzzing cosmopolitan hub, home to gleaming hotels and big-ticket events like the Red Sea International Film Festival, which takes place in late winter.
The city's heart is still intact in Al Balad, the magical historical quarter that has undergone a renaissance in recent years. And the Red Sea is still central to it all — for trade, for diving among pristine reefs, and for fishing for Jeddah's legendary seafood. The city where Eve was laid to rest (according to local lore) is a beguiling mix of old and new, and one that remains gloriously different.
6 Things to do in Jeddah in a day
More to do on VisitSaudi.com
Day Trips
Beyond Jeddah
Are you staying in Jeddah for longer and looking for some unforgettable adventures that will take your experience the extra mile? You won't want to miss these 4 day trips that are short car ride away.
Learn more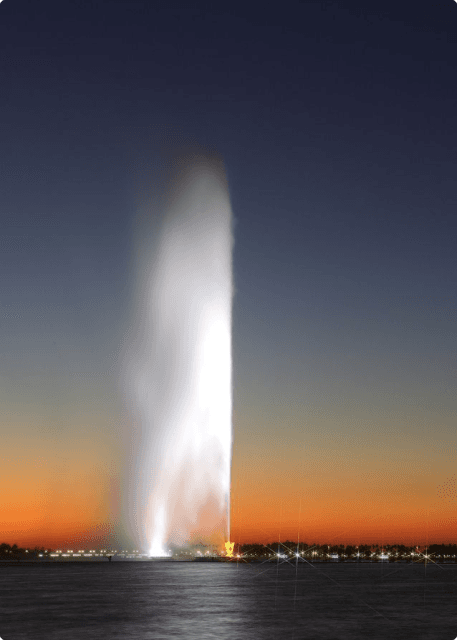 Useful travel tips
Take charge of your well-being
+
Be responsible for your health. Make sure you feel well before setting off, and do not travel if you don't. If you begin to experience symptoms of Covid-19, such as a mild cough, fever or shortness of breath, isolate at home and seek medical advice. Ahead of traveling, ensure your health insurance is current and be prepared for any healthcare emergencies by carrying essential contact numbers, along with details of your policy.
In the event you do end up having to rearrange your plans, travel insurance can help to protect your investment. Consider taking out a policy before you depart, to allow for any changes in health advice or social distancing laws.
As travel restrictions ease, the best way to ensure you're up-to-date with the latest advice is to follow government guidelines. The Saudi Ministry of Health has a dedicated mobile app, Mawid, which offers current healthcare recommendations, and a hotline available on 937. You can also visit the ministry's website for the latest news on travel policies.
The simplest way to stay safe and protect those around you is through good hygiene. When traveling, wash your hands thoroughly and regularly, and avoid touching your nose and mouth. Carry hand sanitizer and disinfecting wipes when out and about, particularly in more remote or rural locations, and apply regularly. Remember to pack facemasks and gloves to wear, as required, and dispose of them carefully after use. Keep a safe distance from others in public places -– a two meter or six foot gap is recommended – and use contactless payment options, such as cards, where you can.
If you've got a short-hop flight across Saudi, or you're planning to take the train, arrive early. Thanks to new safety measures, such as temperature scans and social distancing, queues may be longer and move more slowly. Where you can, use online check-in facilities, and allow yourself enough time to pass through security screening and board smoothly. Be aware that there may also be new limits around hand luggage, so make sure to check this with your carrier ahead of your flight. Staff will be on hand to support, with answers to any questions you may have.
In line with strict new government guidelines, hotels across the kingdom have rolled out enhanced sanitization protocols to safeguard the health of their guests. Properties are also limiting guest numbers, carrying out health screenings on arrival and offering online check-in. Feel free to phone ahead of your arrival for details on how your hotel is managing this: staff will be glad to reassure you. For added peace of mind, carry disinfecting wipes to clean down key touchpoints in your room, such as taps and door handles – but rest assured that guidelines are being stringently followed.
As restaurants, cafés and other eateries resume dine-in services, they are also ramping up sanitization procedures to ensure they are ready to welcome patrons. New rules will set limits to the number of diners admitted at any one time, and extra space between tables in support of social distancing guidelines is mandatory. Disposable cutlery and crockery is also being used for increased safety. All measures are designed to ensure guests are safe and comfortable.
Skip the crowds by exploring some of the fantastic outdoor adventures Saudi has to offer. Whether that's picnicking in the mountains, driving the Red Sea coast, or exploring the kingdom's vast national parks, there's no better way to experience Saudi Arabia's diverse and beautiful landscape. Connect with a tour guide to build a bespoke itinerary, and for reassurance from experts on the best places to visit.
View all